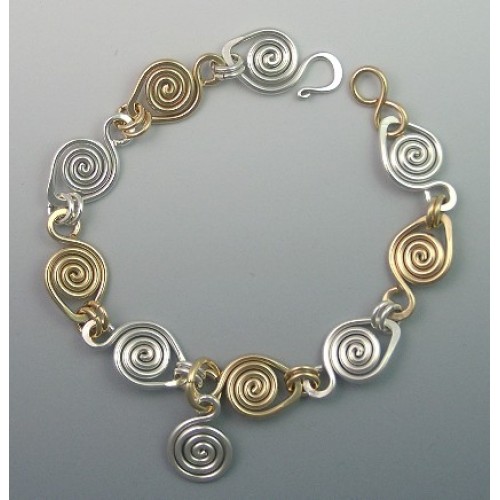 Celtic Siver and Gold Bracelet

By: BJChristian Designs

$155.00

Qty:
This bracelet is a nice blend of gold and silver. All of the silver is Argentium Sterling Silver and the gold is 14K gold-filled. Even though many cultures used spirals in their symbolism, this piece is named after the Celts who used spirals to symbolize their sun. Spirals are also symbolic of Goddess energy, evolution, and change. Gold is the metal of the Sun. It is Yang, masculine and the metal of power, wisdom, and magic. Silver is the metal of the Moon. It is Yin, feminine and the metal of emotions, intuition, and love. As you wear this piece may it give you a sense of the totality of your Self. Each bracelet is unique and includes a signed tag with description of materials and special properties. ***Bracelet Sizing: Please indicate on the "Add Comments About Your Order" section during checkout what the measurement of your wrist is. To size use a soft tape measure and give the measurement at the wrist bone, not the bracelet size you usually wear. Note the measurement to the closest 1/4". If you do not have a soft tape measure, use a string and then measure the string with a ruler. If you are ordering for a gift and cannot measure, please indicate if the recipient has a small, average, or a large wrist. Please remember free sizing is available up to 3 months after purchase.